Total Station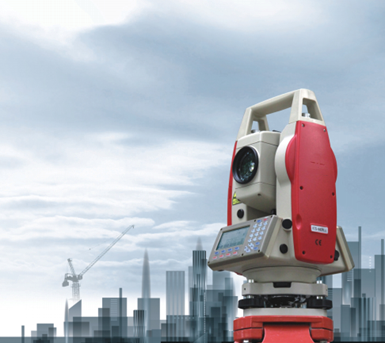 Mainframe 1x

Rechargeable Battery 2x

Battery Charger 1x

Communication Cable 1x

Mini USB Cable 1x

SD Card 1x

Tools Kit 1x

Dryer 1x

Plummet 1x

Carrying Case 1x

Operation Manual 1x

Software CD 1x

Warranty Card 1x

QC Pass Certificate 1x

Rain Cover 1x

Belt for Case 2x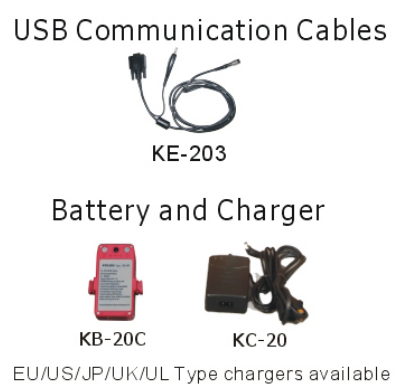 KTS-442R6C

Measuring Ranger
1P

5.0km

3P

8-10 km

Mini prism

800m

Non prism

600m

Digital Display

Maximum: 9999 9999.9999 Minimum: 0.1 mm

Accuracy
With prism: 2 mm+2ppm Without Prism: 5mm+3ppm(only on 442/445rc)
Measuring Time

Fine 1.0s Tracking0.5s

Atmospheric Correction

Automatic Correction by Inputting Parameter

Prism Constant

Automatic Correction by Inputting Parameter

Angle Measurement

Measurement Method

Absolute Encoding

Diameter of The Raster Disk 79mm

Minimum Reading 1"/5" Optional

Accuracy

2"

Detection Method Horizontal: Dual Vertical: Dual

Telescope

Image

Erect

Length

154mm

Effective Aperture

45mm,(DTM: 50mm)

Magnification

30 X

Field of View

1° 30'

Resolving Power

3"

Minimum Focus

1m

Compensation

System

Dual axis liquid-electric

Working Range

-3' — +3'

Resolving Power

1"

Sensitivity of Vials
Plate Vial

30" /2mm

Circular Vial

8' /2mm

Optical Plummet

Image

Erect

Magnification

3 X

Focusing Range

>0.5m

Field of View

5

Data Storage & Communication

Internal Memory

2M/24000 points

External Memory

SD card(up to 2G), only available with442R

Communication Port

RS-232, mini USB

Display

Type

Dual side, 6 lines

Battery

Power Supply

Rechargeable Ni-H battery

Voltage

6 V DC

Operation Time

10 hours

Dimension & Weight

Dimension

160mm*150mm*330mm

Weight

5.8kg

Environmental Specification

Dust/Water(IEC60529) IP55

Working Temperature Range -20℃~50℃

Humidity 95%, non-condensing
Levels
Code: GLXDL -2003
Main features
1. More Advanced Compensator
DL-2003 Digital Levels are made by KOLIDA Total Station factory. Their compensators are more advanced than optical levels, and make the standard 1km double run leveling accuracy reached 0.3mm. Meanwhile, their stability and reliability against the physical and magnetic impacts have also been enhanced.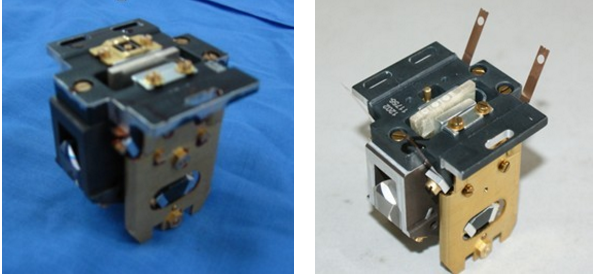 Compensator for DL-2003 Compensator for Optical Levels
2.Highly Integrated Design
Only one board! Electronic imaging resolution circuit is integrated with CCD circuit, which makes it much easier to maintenance. Multiple protections have been made to protect the sensitive spare parts.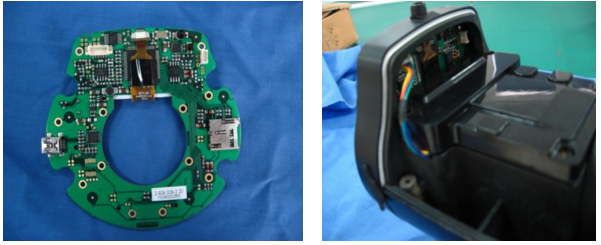 3. Various Survey Programs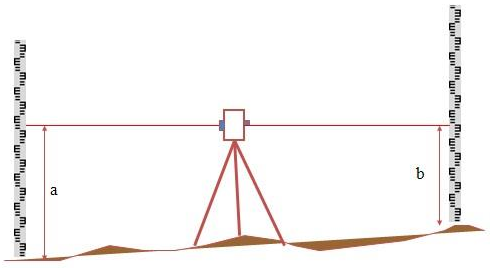 a. Line measurement
b. Automatic collimation correction
c. Automatic calculation.
(Including elevation difference, accumulated elevation difference, accumulated collimation error and accumulated range of visibility and other elevation surveying.)
d. Automatic stake out.
(Automatic stake out for distance, elevation and elevation difference, which can be widely used in class II, class III, and Class IV leveling survey, and settlement observation.)
e. Measuring Hydrological fulcrum
f. Set error limit.
(Automatically detect the elevation difference and collimation error, and alert when error exceeds the limit.)
g. Freely name and note for the surveying points.
4.Humanized Design
a.160*96 LCD, 8 Lines display, with numeric and alphabetical keyboard makes it much easier to input and process data.
b. Automatic reading. No misreading and no error record.
c. High precision. 0.3mm precision and auto average the multiple reading
d. High speed. Spend half the time than the traditional instrument.
e. High efficiency. Support abundant software for automatic adjustment, indoor and outdoor processing. Support detail survey, profile survey and so on.
f. Easy storage. Surveying data can be storage in SD card or internal memory card, and easily output to computer through USB port.
5. Wide application

a. Topographic survey: detail survey, regional survey, contour line survey, and control point survey.
b. Road, railway, building construction survey: cross-section leveling, elevation control, slope control, road ware down survey, monitoring survey, and so on.
c. Pipeline construction, channel construction survey: pipeline positioning, slope control, gap survey.
d. Deformation monitoring: settlement survey, loading survey.
e. Industrial Survey: Machine survey, base surface survey, foundation survey, rotating turret survey.
Model Specification
GLXDL-2003
Height Accuracy(Standard Deviation For 1km Double Run Leveling)
Digital Reading
0.3mm
Optic Reading
1.0mm
Distance Accuracy
Digital Reading
D≤10m:10mm D≥10m:D*0.001
Distance Range
Digital Reading
1.8m~105m
Minimum Display
HD
0.1mm/0.01mm
Distance
0.1/1cm
Measuring Time


Within 3s in Normal Condition

Telescope

Magnification
32x
Resolving
3"
Field Of View
1° 20'
Multi-Constant
100
Add-Constant
0

Compensator

Type
Magnetic-Damped
Range
>±12'
Accuracy
0.20" /1'

Data Storage

Storage
16MB
Point Name
Increasing/Decreasing/User-Defined
Connection
USB
External
SD Card
Circular Vial Accuracy


8' /2mm
Auto Power Off


5 minutes/OFF
Horizontal Dial


1°
Display


LCD Display of 160*64 dpi With illuminator
Working Temperature


-20℃~50℃
Dimension


230mm*150mm*210mm
Weight


2.5kg
GNSS
? 220 channels, Pacific Crest GNSS Motherboard, support GPS/GLONASS/Galileo/BeiDou
? Built-in Transreceiver Radio with 1-4 km emitting range
? Built-in GPRS (3G optional) modem and UHF data link
? Compatible with major brands GPS/GNSS receivers
? Small, lightweight and rugged design for demanding environment field work
? 4G Internal Memory Space
Satellite Signal Tracked Simultaneously
GPS: L1C/A,L1C,L2C, L2E, L5
GLONASS: L1C/A, L1P, L2C/A, L2P, L3
SBAS: WAAS, EGNOS, MSAS
Galileo: E1, E5A, E5B (test)
Positioning Accuracy
Real Time Kinematic (RTK): Horizontal: 8mm+1ppm RMS




Vertical: 15mm+1ppm RMS

Initialization time: typically<8s

Initialization reliability : typically >99.9%
Static Surveying (Post-processing) Horizontal: 3mm+0.5ppm RMS




Vertical: 5mm+0.5ppm RMS

Baseline Length: ≤300km
Communication & Data Storage
Standard USB 2.0 Port




RS-232 Port: Baud rate up to 115200

Integrated Bluetooth ? Class 2

Integrated Trans-receiver Radio 410-430/ 430-450/ 450-470 Mhz

Internal Radio Working Range: 1-4 km

External Radio Working Range: 15-20km
Data Storage: Internal Memory 4GB




Update Rate: 1Hz, 2Hz, 5Hz, 10Hz, 20Hz, 50Hz positioning output.

Reference Output: CMR, CMR+, RTCM2.1, RTCM2.2, RTCM2.3, RTCM3.0, RTCM3.1
Physical & Environmental
Dimension(LxWxH): 205mmx 205mmx 100mm
Weight: 1.2kg (include all module and battery)




Working Temp. : -45℃ to +60℃

Storage Temp. -55℃ to +85℃

Humidity: 100% condensing

Water/ Dust Proof IP67

Shock and Vibration: designed to survive from a 2.5m drop onto concrete
Electrical
External Power Input: 12-15V DC (not less than 36Ah)
Internal Battery Capacity: 2500mAh
Internal Battery Life: 6-12 hours for 2 batteries