GH6 luxurious
High precision, large working platform for your service provides multi-usage platform. Workbench vertical height, in 1100mm-100mm (tiltable) between maintenance works, according to the needs of adjustment. Mobile hydraulic traction, 360 degrees in workbench, pull strong, durable. Professional fixture rapid firmly on car positioning and clamping. Using portable measuring system, high-precision measurement accuracy, simple operation (optional), electronic measurement system. Imported hydraulic system, reliable performance and long service life.
Different function of fixture
(With the product configuration for standard)
Optional electronic measurement system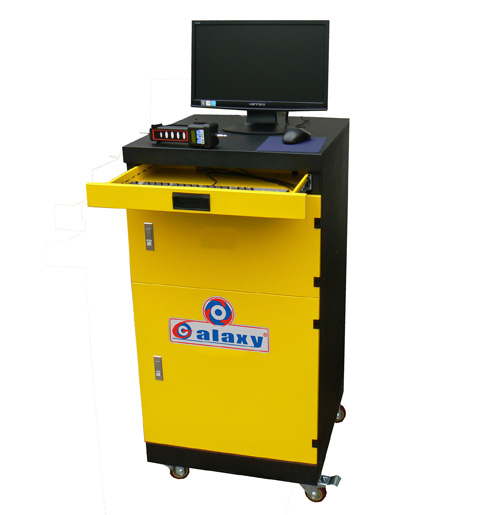 Electronic Measuring System EM-1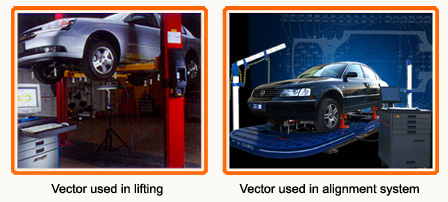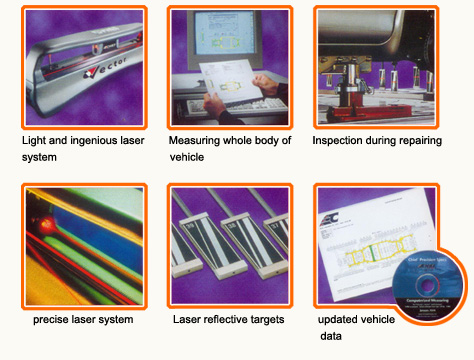 This is an auto body measurement system most applicable for bench type collision repair system in the world at present. Advanced laser scanning technology will measure the auto in three-dimension.
Meet all the needs of your maintenance :
Steel structure working station
Solid sprayed coating
Total welding structure
Cabinet with 4 wheels moves flexibly and conveniently.
220V Voltage
Computer
Windows system professional edition
Intel Celeron 40G hard disk
3.5' FD
128M EMS Memory
Intel integrated super picture card
Integrated 6 track
Integrated Internet Function
DVD player
Windows keyboard
Optical mouse
Super VGA monitor
Software
Simple operation of Chief software
Monitor will show the position pictures of makers.
Click mouse for multi-spots maintenance.
Software may calculate the dismantled parts.
3 separately printed test reports are before, in the process of and after maintenance reports.
Test report may show your logo.
Interactive help and guide book included
Printer
Color Printer with high dpi
Laser scanner (with bracket)
15.2CM*15.2CM*58.5CM close design is convenient for measurement.
2 laser, 2 circling mirror
laser reflective target
32 independent laser reflective targets may cover max scanning scope
Bolts maker
Metal parts
olt size range 10-35mm
hole maker
58 Aluminum parts, size 10-32mm
side hole clips, size 23-35mm
Instructions
Guide Book including User's Guide, Parts Pamphlet, Basic Training Pamphlet,
Computer Guide
Printer, Microsoft system CD
Product characteristic:
■ Easy and simple operation! Instant installation (10 seconds only)!
■ Advanced laser scanner with latest technology will measure it more exactly. Close and light design will measure all the autos more easily (pickup truck and SUV included).
■ Three dimension data can be printed out before, in the process of and fter the maintenance, which will monitor data variation.
■ Dynamic measure on multiple spots can be checked at the same time. Monitoring the whole maintenance rocess will improve repairing quality.
■ Vector laser technology is not affected by voice, air flow and ray etc. Therefore the damaging state of measured autos is the most precise.
■ Varieties of linkers are pplicable for measurements of auto body and chassis. Special target design will remove the error automatically.
■ There are pictures for each measured spots in Vector system, which will help you find the right measurement spots and instant installation of linkers and targets.
■ Each equipment is measured delicately by Chief. The data of all the shapes is updated each6 months.