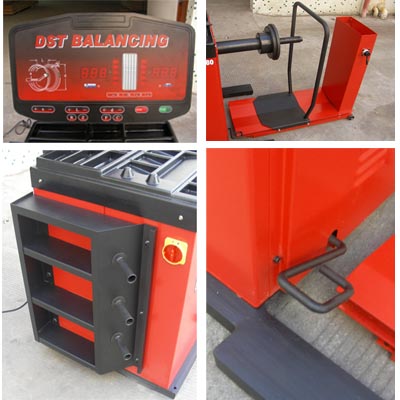 GB1280 luxurious truck tyre changer is fit wheel balancer for truck, passenger car, car and motor. Adopt import pneumatic part from Germany. High precision, beautiful display design.
Product Features:
* Electricity parts is imported.
* 3-ALU programs and static program.
* Switch function between car and truck.
* Rim diameter can be precise to decimal. (for example R22.5),avoid error.
* It is changeable from inch to millimeter, from gram to ounce.
* Equip pneumatic lifter for big, heavy wheel.
* Foot brake function can assist rotate after inspecting, can control the wheel when stick the weight on wheel.
* Self-calibration and self-diagnosis.
* Large visible display.
* Equip tool case, can put the accessory in it.
* You can choose"5″or"10″step.
| | |
| --- | --- |
| Max.wheel weight | 150Kg |
| Rim diameter | 10″-24″ |
| Rim width | 1.5″-20″ |
| Max. wheel diameter | 1200mm |
| Rotating speed | 215 r.p.m |
| Power supply | 500W 380V-3Ph 50Hz |
| Pneumatic supply | 8-10bar |
| 10″-26″/26″-30″ | 75kg |