Features:
Capable of handling the latest generation of tyres and alloy wheels, especially wide stiff and low profile tyres . This new design allows the fitting of the most difficult tyres a one person job with out the risk of damage.
1.Latest technology and new patented design.
2.Powerful two stage bead breaker with specially shaped blade and rubber back pad for fast, safe bead breaking with precise control for tyres and rims.
3.Single speed turntable rotates in both directions Powerful 4 head turntable clamping system covers 13″ to 28″ wheels with ease.
4.Pneumatic 3 stage locking mechanism automatically gives vertical and horizontal clearance, and with plastic mounting head inserts help to avoid contact scratches on the face of the wheel -essential features when dealing with alloy wheels.
5.Tubeless fast inflation system with air accumulation tank.
6.Pedal controlled.
7.Inflation gauge with deflation button.
8.Plastic jaw and mounting head protectors.
9.Pneumatic tilting head.
10.2 X Bead depressors and demounting assist plates.
11.Mounting assist roller.
12.Centre rim stabiliser.
13.Complete with lube brush, container and HD tyre leve These large custom rim adapters are perfect for shops who deal with large custom rims up to 28" in diameter. The large rim adapters increase the external clamping of most tyre changers to 28". External clamping means the wheel is secured on the turn table with the jaws clamping from the outside. These adapters are compatible with all of our tyre changers.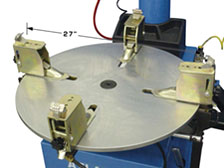 Specification
| | |
| --- | --- |
| Outside Wheel Clamping | 13"-24" |
| Inside wheel Clamping | 15"-26" |
| Maximum tyre diameter | 1200mm |
| Maximum tyre width | 400mm |
| weight | 400kg |
| Bead Breaking force | 2500kg |
| Drive Motor | 440v/3phase |