*Video:gl-3.5w
Variable-Height Camera Support)
The V3D series will enable you to:
Make more of your technicians alignment experts
Generate more alignment business
Eliminate comebacks
Make More Money!
Click on one of the section titles to learn more about the V3D1 Wheel Alignment System.
Features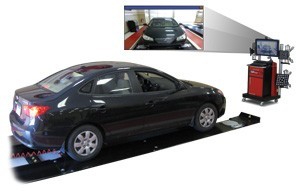 Optional Drive-On Camera Aid
(EAK0289J91A) The Drive-On Camera Aid eliminates the need for assistance with positioning the vehicle on the lift.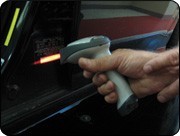 Optional VIN Scanner
(EAK0289J86A) The VIN Scanner allows the technician to scan the Vehicle Identification Number and automatically input it into the aligner, saving time and eliminating the possibility of operator error.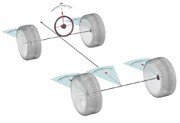 EZ-Link? * Steering Angle Sensor (SAS) Reset
EZ-Link? software alerts the technician of OEM service and maintenance procedures related to Electronic Stability Control and Electric Power Steering systems.
OEM instructions guide the technician through the process of resetting the steering angle sensors along with other sensors as required. EZ-Link? includes manual as well as electronic resets.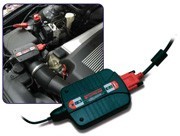 Optional EZ-Stream? *
(EAK0284B10A1) Optional EZ-Stream?* hardware communicates with the vehicle??s computer and aids the technician with service of on-board computer data relative to computerized steering systems.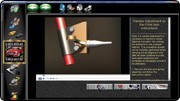 3D Animation
Provides vehicle-specific adjustment information with easy-to-understand 3D graphics
Refers to spare parts or special tools as applicable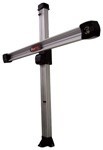 Optional Variable-Height Camera Support
Variable-Height Camera Support (VHCS)(EAA0321J19C) – Shown with standard Camera Beam Assembly
Eliminates the need tof fixed-position/level surfaces during alignments
Positions cameras in range with a touch of a button – even during the alignment process!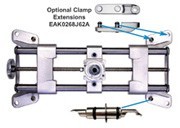 Universal Wheel Clamps
Handles wheel diameters ranging 11″ to 24″ standard (Increase clamping diameter to 28″ with Optional Clamp Extensions EAK0268J62A)
Interchangeable grippers minimize wheel damage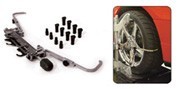 Optional Alloy Quick Clamp Kit
(EAK0268J63A) Clamp accurately and safely on the tire to avoid scratching the wheel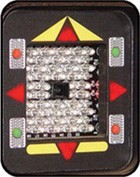 VODI*?
Vehicle Orientation Directional Indicator
Guides technician through measuring process
Reduces the amount of time spent walking back and forth from the vehicle to the aligner console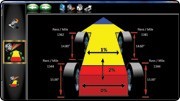 Rolling Radius*
Identify mismatched tire sizes – a potential cause of vehicle pulling and driver complaints
Prevent damage to vehicles with all-wheel drive and ABS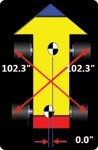 Cross-Diagonal Measurements*
Help diagnose possible collision damage
Identify frame or structural issues that many shops miss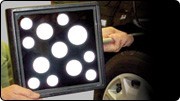 Ride Height Measurement*
Review vehicle specs and request input from the technician for those vehicles requiring ride height measurement
Measure manually or use the Target Imaging Pointer (TIP)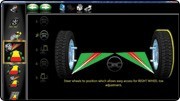 EZ-Toe*
Adjust front toe quickly
Steer through full range of motion and maintain toe measurement at all times
Eliminate redundant steps in front toe adjustments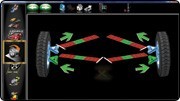 A-Arm Adjust*
Achieve precise setting of difficult A-Arm adjustments, without the use of manual calculations or approximation
Features
| | |
| --- | --- |
| TPMSInformation | |
| Technical Service Bulletins | Elevated Adjustments |
| Track Width | Rear Shim Programs |
| Wheelbase | Multiple Lift Support (3) |
| Front and Rear Set-back | Vehicle Specs: 25+ years |
| Live 3D Modeling* | EZ-Link?* |
| Cradle Adjustments | EZ-Stream?* |
| Intuitive Caster Measurement | EZ-Toe?* |
| Drag Link Adjustments | Steering Wheel Level Check |
| Single Tie Rod Adjust | Drive-On Camera Aid Ready |
| Toe Curve Change | Equalize Toe Warning |
| Vehicle Dynamics | Adjust Front Before Rear Warning |
| Roll Forward & Split-Positioning Sequence | Ride Height* |
| Rolling Radius* | Multiple Clamp Support |
| Cross Diagonal* | 2-Wheel Alignment |
| Custom Inspections and Reports | 32 Languages |
| Multiple Alignment Wizards (Including Custom) | Multiple Print Formats |
| SAIand Thrust Angle | Custom Vehicle Specifications |
| Included Angle | Regional Specifications |
| Toe Out On Turns/Max Turn | Integrated Help System (PDF) |
| Front and Rear Toe | Tools, Parts, and Adjustment Instructions |
| Front/Rear/All/Zoom Readings | Advanced Customer Database with Backup/Restore |
| FrameCheck? Light Truck Frame Angle | Multiple Units of Measure |
| Initial/Final Color Printouts | Caster and SAI on Turntables |
| Individual Camber/Caster/Toe | SAIElevated |
| Front Caster (-28?? to +28??) | Live Caster, Camber and Toe – Turntables |
| Front & Rear Camber (-15?? to +15??) | Live Caster, Camber and Toe – Elevated |
| 3DAnimation | NorthStar Shim Program |
| Video Help | Light Truck Bushing |
| A-Arm Adjustments | Remote Control (Optional) |
| Adjust Camber Only | Variable-Height Camera Support Controls |
Specifications
| | |
| --- | --- |
| Wheel Size | 13″ – 24″ |
| Tire Diameter | Unlimited |
| Track Width | 48″ – 96″ |
| Wheelbase | 79″ – 180″ |
| Power Requirements | 120/230V, 1Ph, 60HZ |